Another year, another warm welcome – this time to Danish Review 2013.
After last year's successful pilot came the always difficult follow-up. I was actually somewhat nervous about it: would my students want to contribute now that the project was not sparkling new? Would anybody external want to participate? Would the authors be able to come up with new, interesting topics to write about?
I hope that the magazine will speak for itself and that you will enjoy reading it! And who knows, maybe you will be so inspired that you book a direct flight to Copenhagen to go explore food and coffee, both of which can also be enjoyed at Christiania, which is by no means only about drugs – while listening to Nephew's quirky lyrics…
I want to thank all the contributors both my own UCL students and the external authors. It has been a long but also very rewarding process. Special thanks go to my co-editor and PhD student Pei-Sze Chow and our feedback-team consisting of PhD students Tom Hoctor and Harry Evans and MA student Sara Cass. I could never have done any of this without your tireless effort!
I also want to thank Norvik Press and especially Marita Fraser (for help with Booktype) and Dr Elettra Carbone (for help with the layout).
A couple of brief notes on next year's issue, which will be different in a few important ways:
Firstly, I hope to extend Danish Review to other universities where Danish is taught. This will obviously be a logistic challenge, but with this year's introduction of the software Booktype, it is now relatively manageable and straightforward. In this way Danish Review will offer the opportunity for students of Danish around the world to collaborate on projects (and get peer-feedback) and get to know each other.
Secondly, Danish Review 2014 will be in both Danish and English. This means that it will remain accessible to a wide audience while also offering the opportunity for students to work with their language skills (and again: get help, advice and feedback). This will also make the magazine useful as a teaching tool (for self-studying or in the classroom).
And with that, all I have left is to wish you a good summer and a good read: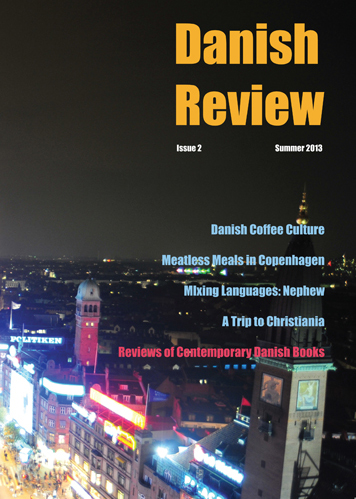 Why not check out…

Danish Review 2012 / 2014: Translation, food, politics, music, literature and much more