Danish verbs are conjugated just like English verbs, and in most respects they behave in the same way. You have to learn some new endings for the past tense – Danish verbs have two regular past tense endings – and new auxiliary verbs for the perfect and pluperfect tense and the passive voice. The good news is that each tense only has one form: No do-does problems here!
The many faces of a verb
Danish verbs have the same forms as English verbs. The bad news is that the endings are not the same. Furthermore, some forms that look similar in English (infinitive – present) are distinct in Danish. This video takes you through all the verb forms you will ever need. Once you master them, all you have to do is learn a handful of endings and a few auxiliary verbs, and you are there (sounds easy, doesn't it?).
Quiz: Verb forms
The perfect tense
What better heading than that? This video will probably not make you laugh, it might not even make you smile – but it hopefully will show you how to use the perfect tense in Danish. To do this it will  teach you about the two auxiliary verbs needed in Danish, and for extra fun I am going to explain the difference between transitive and in-transitive verbs (trust me, you are going to enjoy this!).
Quiz:  The perfect tense
I would if I could…
In this video I will introduce you to Danish modal verbs. These verbs add colour to your sentences such as politeness (may I have an ice cream) and probability (I might be there tomorrow). Modal verbs are tricky in all languages, but they add a whole new dimension to your language, so they are well worth spending time on.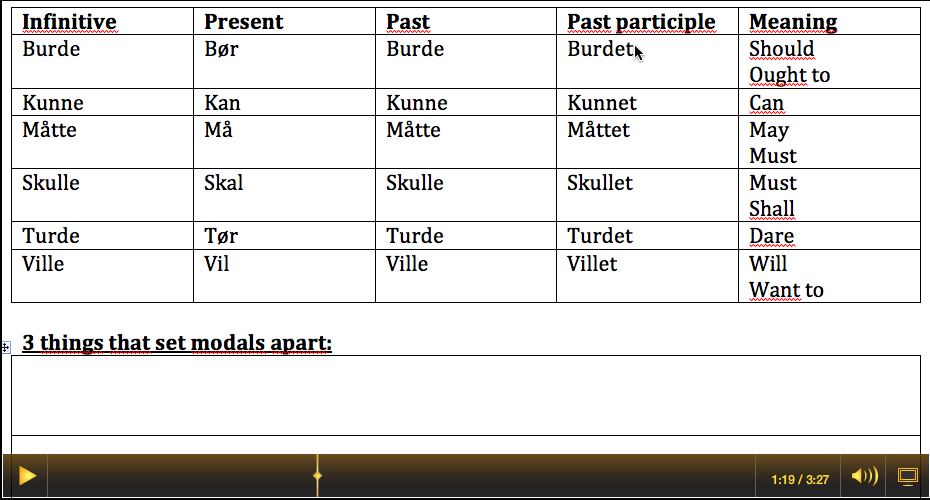 An active interest is all you need
Danish verbs can be active – but they can also be passive. Actually, Danish has two passive voices, both of which are explained in this video. I also explain why and when we use the passive voice. If you are new to Danish I suggest you wait with this video and focus on the other tenses. If you have already mastered them, however, this can really spice up your language!
External resources:
Why not check out…

Danish Review 2012 / 2013 / 2014: Translation, food, politics, music, literature and much more